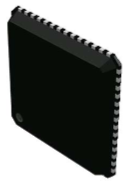 Abbildung kann vom Original abweichen

GPS/GALILEO/GLONASS STA8088FG
Hersteller:
STMicroelectronics
Matchcode:
STA8088FGTR
Rutronik No.:
GPS1172
VPE:
2500
MOQ:
2500
Package:
VQFPN56
Verpackung:
REEL
GPS/GALILEO/GLONASS STA8088FG Beschreibung
STA8088FG is a single die standalone positioning receiver IC working on multiple constellations (GPS/Galileo/Glonass/QZSS).
The minimum BOM make STA8088FG the ideal solution for low-cost and small footprint products such handheld computers, cameras, data loggers, and sports accessories.
The device is offered with a complete GNSS firmware which performs all GNSS operations including tracking, acquisition, navigation and data output with no need of external memories
Key Features
STMicroelectronics® 3rd generation positioning receiver with 32 Tracking channels and 2 fast acquisition channels compatible with GPS, Galileo and Glonass systems
Embedded RF Front-End with separate GPS/Galieo/QZSS and Glonass IF outputs
Embedded low noise amplifier
-162 dBm indoor sensitivity (tracking mode)
Fast TTFF < 1 s in Hot start and 35 s in Cold Start
High performance ARM946 MCU (up to 208 MHz)
256 Kbyte embedded SRAM
In-Package SQI Flash Memory (16 Mbits)
Real Time Clock (RTC) circuit
32-bit Watch-dog timer
3 UARTs
1 I2 C master/slave interface
1 Synchronous Serial Port (SSP, Motorola-SPI supported) or 1 External SQI Flash interface
USB2.0 dual-role full speed (12 MHz) with integrated physical layer transceiver
2 Controller Area Network (CAN)
2 channels ADC (10 bits)
3 Embedded 1.8 V voltage regulators
I/O level selectable 1.8 V or 3.3 V
Operating Condition:

VDD12 : 1.2 V ±10%
VDD18/RF18 : 1.8 V ±5%
VLPVR 1.62 V to 3.6 V
VddIO : 1.8 V ±5%; 3.3 V ±10%

Package:

VFQFPN56 (7 x 7 x 0.85 mm) 0.4 mm pitch

Ambient temperature range: -40/+85°C
Kanäle

32

TTFF Kaltstart

35 sec

TTFF Schnellstart

1 sec

Sens.tracking

-162 dBm

Sens.navigation

-146 dBm

MEMS Unterstützung

Y Y/N

Protokol

NMEA

interne Antenne

Y

Betriebs Spannung

N V

Betriebs Temperatur

Y °C

Länge

1,8/3,3 mm

Breite

-40 / +85 mm

Höhe

7 mm

Gewicht

7 g

HF Sniffer

1 Y/N

Automotive

NO

Gehäuse

VQFPN56

Bleifrei Definition

10

Verpackung

REEL
ECCN

EAR99

Zolltarifnummer

85269120990

Land

South Korea

ABC-Schlüssel

A

Lieferzeit beim Hersteller

20 Wochen