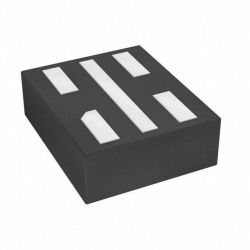 Abbildung kann vom Original abweichen

NFC IC Type4 512byte WAFER
Hersteller:
STMicroelectronics
Matchcode:
ST25TA512B-AC6F5
Rutronik No.:
ICRFID1516
VPE:
1
MOQ:
10023
Package:
Wafer
Verpackung:
REEL
NFC IC Type4 512byte WAFER Beschreibung
ST25TA512B
NFC Forum Type 4 Tag IC with 512-bit EEPROM
The ST25TA512B and ST25TA02KB devices are NFC tag ICs, with an optional general purpose output available on ST25TA02KB-D and ST25TA02KB-P.
They embed an up to 2 -Kbit EEPROM, and can be operated from a 13.56 MHz RFID reader or an NFC phone.
The ST25TA512B, ST25TA02KB, ST25TA02KB-D and ST25TA02KB-P devices are NFC Forum Type 4 Tags.
They communicate using the ISO/IEC 14443 Type A protocol, and feature a digital signature generated by TruST25™ (a set of software and procedures) used to prove the origin of the chip in cloning detection.
Key Features
Contactless interface

NFC Forum Type 4 Tag, certified by the NFC Forum
ISO/IEC 14443 Type A
106 kbps data rate
Internal tuning capacitance: 50 pF

Memory

Up to 256-byte (2-Kbit) EEPROM
Support NDEF data structure
Data retention: 200 years
Endurance: 1 million erase-write cycles
Read up to 256 bytes in a single command
Write up to 54 bytes in a single command
Chaining capability
7-byte unique identifier (UID)
128-bit password protection
20-bit event counter with anti-tearing

Product identification and protection

TruST25™ digital signature

Package
Digital output

GPO: configurable general purpose output

driven by an open drain transistor, available on ST25TA02KB-D only
enabling no DC consumption (CMOS output buffer), available on ST25TA02KB-P only.
Artikelart

IC

Betriebs Frequenz

13,56 M Hz

Mode

R/W

Datenspeicher

64K Bytes

Betriebs Temperatur

-40 to +85 °C

Lagertemperatur

15 to 25 °C

Automotive

NO

Gehäuse

Wafer

Bleifrei Definition

10

Verpackung

REEL
ECCN

EAR99

Zolltarifnummer

85423275000

Land

Philippines

Lieferzeit beim Hersteller

18 Wochen