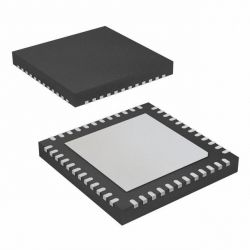 Abbildung kann vom Original abweichen

QFN48 READER ISO1800-6A/B/C
Hersteller:
STMicroelectronics
Matchcode:
ST25RU3993-BQFT
Rutronik No.:
ICRFID1533
VPE:
1
MOQ:
1
Package:
QFN48
Verpackung:
REEL
QFN48 READER ISO1800-6A/B/C Beschreibung
The ST25RU3993 is an EPC Class 1 Gen 2 RFID reader IC that implements all the relevant protocols, including ISO 18000-6C, the ISO 29143 air-interface protocol for mobile RFID interrogators, and ISO 18000-6A/B for operation in direct mode. It includes an on-chip VCO and a power amplifier, and offers a complete set of RFID features including Dense Reader Mode (DRM) functionality and support for frequency-hopping, low-level transmission coding, low-level decode, data framing and CRC checking.
The ST25RU3993 operates at very low-power, making it suitable for use in portable and battery-powered equipment such as mobile phones.
Packaged in a 7x7 mm QFN, the ST25RU3993 is able to deliver very high sensitivity and provides high immunity against the effects of antenna reflection and self-jamming. This is critical in mobile and embedded applications, in which antenna design is often compromised by cost or size constraints. High sensitivity enables the end-products to achieve their required read range while using a simpler and cheaper antenna, thus reducing overall system cost.
Thanks to its high level of integration, the ST25RU3993 requires only an external 8-bit microcontroller to create a complete RFID reader system, thus eliminating the need for a complex RFID co-processor.
Key Features
Supply voltage range 3.0 to 3.6 V

Limited operation possible down to 2.7 V
Maximum PA supply voltage 4.3 V
Peripheral I/O supply range 1.65 to 5.5 V

Protocol support for:

ISO 18000-6C (EPC Class1 Gen2)
ISO 29143 (Air interface for mobile RFID)
ISO 18000-6A/B through direct mode

DRM: 250 kHz and 320 kHz filters for M4 and M8
Integrated supply regulators
Frequency hopping support
ASK or PR-ASK modulation
Automatic I/Q selection
Phase bit for tag tracking with 8-bit linear RSSI
Temperature range: -40 °C to 85 °C
48-pin QFN (7x7x0.9 mm) package
Artikelart

IC

Betriebs Frequenz

840-960 M Hz

Phy.interface

SPI

Mode

READER

Versorgungsspannung

3,0-3,6 V

Betriebs Temperatur

-40 to +85 °C

Abmessung (LxB)

7x7 mm

Dicke

0.9 mm

Automotive

NO

Gehäuse

QFN48

Bleifrei Definition

10

Verpackung

REEL
ECCN

EAR99

Zolltarifnummer

85423275000

Land

Philippines

ABC-Schlüssel

A

Lieferzeit beim Hersteller

10 Wochen