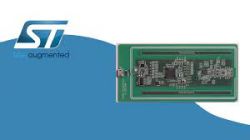 Abbildung kann vom Original abweichen

DISCOVERY KIT FOR ST25R3911B
Hersteller:
STMicroelectronics
Matchcode:
ST25R3911B-DISCO
Rutronik No.:
ICRFID1536
VPE:
1
MOQ:
1
Verpackung:
INDIVIDUAL
DISCOVERY KIT FOR ST25R3911B Beschreibung
The ST25R3911B-DISCO is a ready-to-use kit featuring the ST25R3911B, an highly integrated HF reader / NFC initiator IC.
The ST25R3911B-DISCO can be operated as ISO18092 (NFCIP-1) active and passive initiator, ISO18092 (NFCIP-1) active target, ISO 14443A and B reader including very high bit rates (VHBR), long range ISO15693 and FeliCa™ reader. Implementation of other standard and custom protocols like MIFARE™ Classic is possible using the AFE and implementing framing in the external microcontroller (stream and transparent modes).
The ST25R3911B-DISCO addresses a wide range of applications such as access control, ticketing, industrial, medical and consumer, where users need optimal RF performance and flexibility combined with low power consumption.
The ST25R3911B-DISCO kit, whose block diagram is shown in Figure 1, allows the user to exploit several features of the ST25R3911B.
It contains a low power capacitive sensor that can be used for ultra-low power wakeup without switching on the reader field. Traditional inductive wakeup with the choice of amplitude or phase measurement can be used as well.
The automatic antenna tuning (AAT) technology enables operation close to metallic parts and/or in changing environments. The available software visually displays the impact of AAT, thus enabling an easy evaluation of the feature.
Key Features
Based on ST25R3911B high performance HF reader / NFC initiator with 1.4 W output power, supporting VHBR and AAT

ISO 18092 (NFCIP-1) active P2P
ISO14443A, ISO14443B and FeliCa™
ISO15693
Supports VHBR (3.4 Mbit/s PICC to PCD framing, 6.8 Mbit/s AFE and PCD to PICC framing)
Up to 1.4 W output power with differential antenna
Possibility of driving two antennas in single ended mode
Inductive and capacitive Wake-up
Automatic antenna tuning system
DPO (Dynamic Power Output)
User selectable and automatic gain control
Transparent and Stream modes to implement MIFARE™ Classic compliant or other custom protocols
6 Mbit/s SPI
Wide supply voltage range (from 2.4 V to 5.5 V)
QFN32, 5 mm x 5 mm package

STM32L476RET6 32-bit microcontroller with 512 kB of Flash memory
105 mm x 52 mm, two turns antenna etched on the PCB, and associated VHBR tuning circuit
Micro-USB connector for communication with the host PC and board powering
Six LEDs indicating the presence of the RF field and of the protocol used to communicate
Verpackung

INDIVIDUAL

Automotive

NO

Bleifrei Definition

10
ECCN

EAR99

Zolltarifnummer

84719000000

Land

China

ABC-Schlüssel

A

Lieferzeit beim Hersteller

18 Wochen