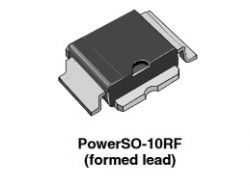 Abbildung kann vom Original abweichen

N-CH RF-MOSFET 65V 2,5A PWRSO10
Hersteller:
STMicroelectronics
Matchcode:
PD57018-E
Rutronik No.:
THF5296
VPE:
50
MOQ:
400
Package:
PwSO-10RF
Verpackung:
TUBE
N-CH RF-MOSFET 65V 2,5A PWRSO10 Beschreibung
18W 28V HF to 1GHz LDMOS TRANSISTOR in PSO-10RF plastic package
The device is a common source N-channel, enhancement-mode lateral field-effect RF power transistor. It is designed for high gain, broad band commercial and industrial applications. It operates at 28 V in common source mode at frequencies of up to 1 GHz. The device boasts the excellent gain, linearity and reliability of ST's latest LDMOS technology mounted in the first true SMD plastic RF power package, PowerSO-10RF. Device's superior linearity performance makes it an ideal solution for base station applications. The PowerSO-10 plastic package, designed to offer high reliability, is the first ST JEDEC approved, high power SMD package. It has been specially optimized for RF needs and offers excellent RF performance and ease of assembly. Mounting recommendations are available in www.st.com/rf/ (look for application note AN1294).
Key Features
Excellent thermal stability
Common source configuration
POUT = 18 W with 16.5dB gain@945 MHz/28 V
New RF plastic package
Polarität

N-CHANNEL

U(cc) max

65 V

Frequenz f

945 MHz

P(out)

18 W

Gehäuse

PwSO-10RF

Automotive

NO

Bleifrei Definition

10

Verpackung

TUBE
ECCN

EAR99

Zolltarifnummer

85412900000

Land

Malaysia

ABC-Schlüssel

A

Lieferzeit beim Hersteller

27 Wochen