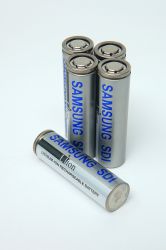 Abbildung kann vom Original abweichen

Lithium Ion Bare Cell 21700 leadfree
Hersteller:
SAMSUNGSDI
Matchcode:
LIIO21700
Rutronik No.:
BAT6070
VPE:
130
MOQ:
12870
Verpackung:
BOX
Lithium Ion Bare Cell 21700 leadfree Beschreibung
Samsung SDI lithium ion cells shall be equipped with a suitable safety unit.
Due to the need for careful review when selecting lithium ion cells for battery packs
we highly recommend to share your application data and its technical requirements
in order to verify the best cell choice.
Technologie

LIIO

Spannung

3.6 V

Min. Kapazität

4753 mA

Größe

21700

Kontaktanschluß

bare cell

Zulassung

UN 38.3

Anzahl Zellen

1

Gewicht

69.5 g

Form

CYLINDER

V x A

17.64 Wh

Automotive

NO

Bleifrei Definition

0

Verpackung

BOX

Kapazität typisch

4900 mA
Zolltarifnummer

85076000300

Land

South Korea

Lieferzeit beim Hersteller

18 Wochen